Key Reasons To Buy Bitcoin
In this article, I will describe some of the key reasons behind buying bitcoin and the benefits of using our bitcoin ATMs as an alternative to other buying and selling methods. People around the world continue to speculate about the future of bitcoin and so I want to share our thoughts on the subject.
We are in the business of Bitcoin ATMs because we are true believers in the technology and its future and we want to bring it to our communities in New Jersey, in the most convenient way possible. We want to make bitcoin readily available to our local communities without all the unnecessary red tape that some banks and industries have been trying to impose on people.
We started out as bitcoin enthusiasts, then personal investors, then bitcoin, ethereum, bitcoin cash, and litecoin miners, and then we launched Growth BTM. We have noticed how difficult it can be for some people to buy and sell cryptocurrency from online exchanges and banks. When you buy online, you simply don't have the privacy that you deserve, so we saw an opportunity in allowing our communities to buy bitcoin and sell bitcoin with cash, from our local Bitcoin ATMs. Many people understand that now and it's making buying and selling on Bitcoin ATMs more popular. In this article, I will go into more details about what I mean.
Why You Should Buy Bitcoin
1. Mainstream Investment
Bitcoin and other cryptocurrencies are accepted by many investors as legitimate investments. Renowned analysts and experts around the world predict the price of one Bitcoin to jump to one million dollars. The popularity of bitcoin as a mainstream investment and as an alternative to national currencies, for payments, is on the rise. The owners of the New York Stock Exchange, in partnership with Microsoft and Starbucks, introduced a federally regulated bitcoin exchange market. This venture made investing in bitcoin even more mainstream and globally trusted. Millions of people can potentially continue to add cryptocurrency to their 401(k) portfolios.
Customers and businesses also realize the benefits of using bitcoin as an alternative to credit cards. The security and utility of this digital currency can save both time and money. Payments and transfers are sent directly from one party to the other and without the need to go through a third-party financial institution. Companies are working on making credit cards that only use cryptocurrency and many merchants are on-board because they get to save on credit card fees.
2. Limited Supply, High Demand
Bitcoins are constantly being created by miners. This additional bitcoin supply is decreasing overtime at a calculated and predictable rate. The number of bitcoins created is halved each year until it reaches the maximum number of bitcoins that can ever be created, a total 21 million bitcoins. This means that since there are far less than 21 million millionaires around the world, in the future not all millionaires can own an entire bitcoin on their own. This scarcity in supply and the increasing demand to use and invest in bitcoin could continue to drive up the price, especially if central banks buy bitcoin as a currency reserve.
To drive up demand for almost anything, it needs to have value. Bitcoin's value is being realized more and more as a useful form of money. It has the characteristics of fiat money, without the need rely on physical properties like gold and silver or the authorities like central banks and governments. Bitcoin only relies on mathematics, and math works. Math is not corrupt and you don't need to trust it the way you need to trust people and financial institution. Because of this and the many other reasons mentioned in this article, we think that bitcoin will continue to be adopted and its demand will continue to skyrocket.
3. Bitcoin Is The New Gold
When a country is at war or prints too much money, the value of bitcoin and gold remain unaffected, while the value of that country's currency plummets. No federal reserve can devalue bitcoin. Some analysts predict that more people and businesses will buy bitcoin instead of gold. Gold is inconvenient because it requires space. Just like physical fiat money, transferring gold is timely and costly.
Gold requires storage space, guards, and a ton of fees attached to its logistics. Like the co-founder of Microsoft, Bill Gates said "Bitcoin is better than currency in that you don't have to be physically in the same place and, of course, for large transactions, currency can get pretty inconvenient." He also said "Bitcoin is exciting because it shows how cheap it can be," referring of course to bitcoin's cheap transaction fees.
You can literally store 100 million dollars worth of bitcoin in one digital wallet. Imagine how inconvenient it can be to store or transfer 100 million dollars worth of gold! Central banks around the world are realizing this and they are considering to buy bitcoin as a currency reserve, instead of gold. That can potentially increase the demand of bitcoin, and as I already mentioned, with its limited supply, that can bring the price of bitcoin into new unimaginable territory.
4. No Banks Required
Bitcoin and other cryptocurrencies are decentralized and borderless. Payments and transfers are cheap and fast. You do not require a third-party to use bitcoin because it is not owned by private or government banks. Bitcoin can potentially protect customers from market inflation and bank failures. For instance, in 2018 Argentina's national fiat currency lost 50 percent of its value against the U.S. dollar.
This economic crisis in South America made cryptocurrency in places like Argentina more popular, and as a result, it prompted private companies to increase the number of Bitcoin ATMs. The number of businesses and consumers that use cryptocurrency in Argentina is growing. This shows how when large institutions fail to protect and back their fiat currencies, people will rely on bitcoin because it is purely backed by mathematics.
5. Many Believe in Bitcoin's Future
Growth BTM members and millions of people and business owners around the world invest in bitcoin and other cryptocurrencies. We truly believe that it's the future of money! We fully understand and want you to also understand that no investment is free of risk nor can it guarantee returns. It's just preposterous to think that. On the other hand, one thing we do know for sure is that no one can ever stop bitcoin.
The fact that it is decentralized makes it impossible to shut down. To end bitcoin, someone will have to shut down the entire internet around the world, and that's just not going to happen. That is another reason that makes bitcoin even more special.
7 Reasons Why Our Bitcoin ATMs Are The Best Way To Buy And Sell Cryptocurrencies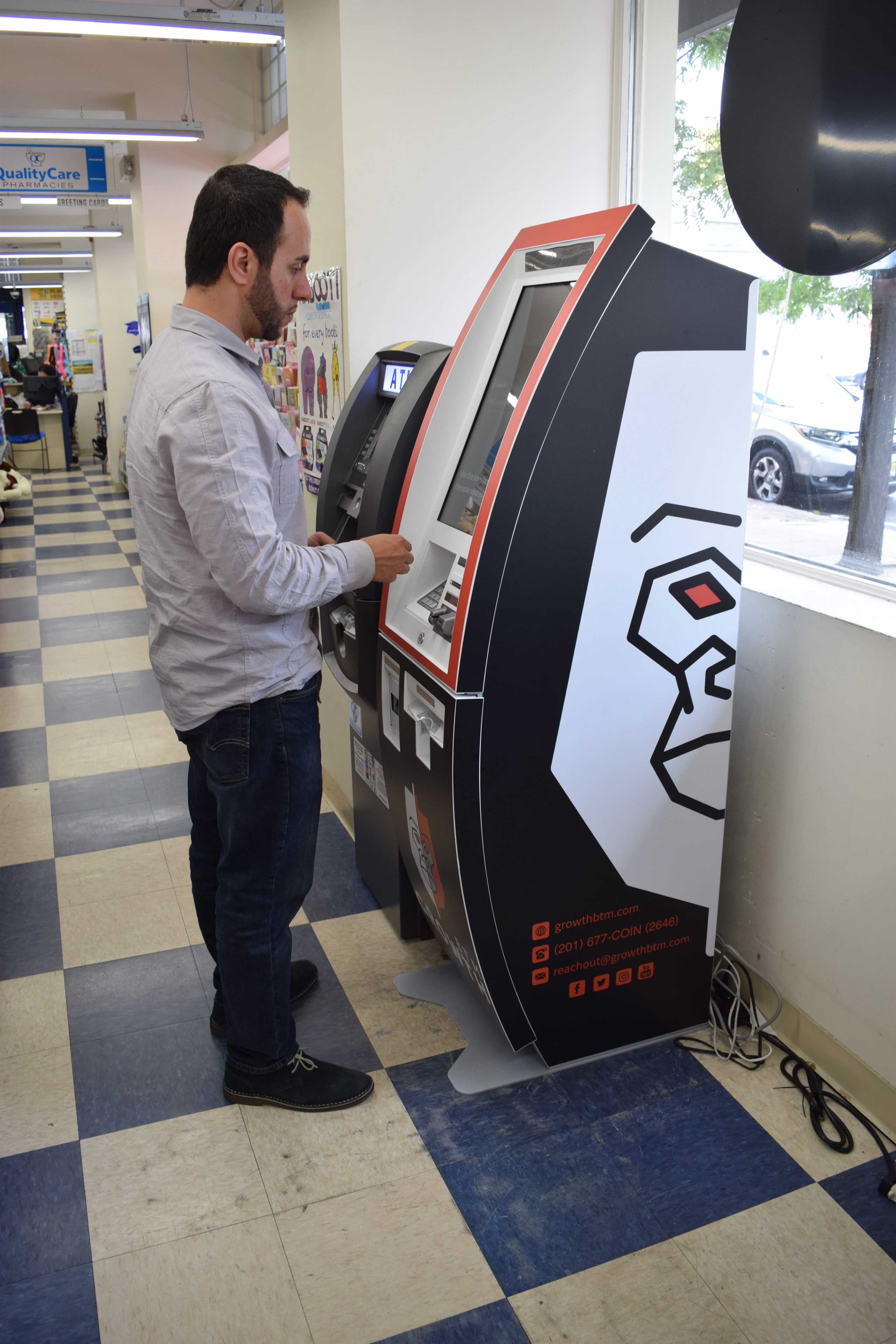 1. You can turn cash into bitcoin in a few very simple steps.
Buying bitcoin from our Bitcoin ATMs is as simple as can be. In just a few seconds and with cash, you can buy bitcoin and other cryptocurrencies with a few easy steps. You can also sell bitcoin and other cryptocurrencies and withdraw cash right from our Bitcoin ATMs. We also have an industry-leading 24-hour customer service team that can answer all of your questions and help you with any technical difficulties. All of our Bitcoin ATMs are conveniently located around north New Jersey and allow you to buy and sell with cash. Click on the links in this paragraph to see our tutorials and learn all of the steps for buying and selling cryptocurrency.
Think of our Bitcoin ATMs as currency converters. Because all of our Bitcoin ATMs offer two-way operations, you can turn U.S. dollars into cryptocurrency when you buy with cash and turn cryptocurrency into U.S. dollars when you sell. It's a very fast, convenient, safe and reliable crypto trading method. All you really need to bring to our Bitcoin ATM is your cell phone to verify your phone number and if prompted by our system, you may need to scan your ID. Your daily limit on our Bitcoin ATMs is $3,000 and if you need more, you can always contact us to discuss your options.
2. You do not require a bank account and unlike online exchanges, you will be verified and can own bitcoin in minutes, not days or weeks.
Some online cryptocurrency exchanges just take too long to verify customers. When they are busy with new signups, this can take up to two weeks or more to get you verified and allow you to use their exchange. In 2017, many major cryptocurrency exchanges could not handle the influx of new customers and simply stopped accepting new accounts. Furthermore, when their network is busy, their websites and apps go down and customers can't buy or sell or even access their cryptocurrencies. This happened hundreds of times in 2017 on all of the major exchanges. With our Bitcoin ATMs, you can be verified, buy and sell with cash, in less than a minute.
3. If you don't have a bitcoin wallet, our bitcoin ATM will print you a paper wallet and send the bitcoins directly to that wallet.
Digital wallets on phone applications have a QR code that you can scan on our Bitcoin ATM to send the cryptocurrency to that wallet. You can also have your digital wallet somewhere other than your phone, and manually type your wallet's public address on our bitcoin ATM. If you don't have a digital wallet, our Bitcoin ATM will create one for you with a unique public and private QR codes and print it for you.
Just like any digital wallet, your public address can be shared with anyone and is used to receive bitcoin. Your private address on the other hand, should not be shared with anyone. You have to keep that in a safe place because that's the address you use to spend your bitcoins and transfer them to other wallets. See our tutorial on how to transfer your bitcoin from a paper wallet to a digital wallet on your phone.
4. We offer the most competitive rates nationwide.
We like to compete and add value to our customers. Just like any business, we have expenses and need to stay profitable, so we charge a fee. Sometimes, we have promotions and offer our customers zero fees and sometimes we go as far as selling bitcoin lower than market price. That means, you can buy bitcoin from our Bitcoin ATMs at a lower rate than anywhere else (ATMs, exchanges…etc.). The only way to find out about these promotions is to subscribe at the very bottom of this page and join our social medial. Sometimes we announce our promotions by email and sometimes we announce them on our social media accounts.
On non-promotion days we always scan the Bitcoin ATM market and try to offer the lowest fee possible. Our philosophy is simple. Like your customers and treat them right and they will like you back and use your services. We are cryptocurrency investors ourselves, so we know how we feel about fees and strive to treat our customers the way we like to be treated.
5. We offer top-tier 24/7 customer service.
We've helped customers with general questions, technical difficulties, transferring their cryptocurrency from paper wallets to other personal digital wallets and more. Everyone that's in our customer service team is a well-trained subject matter expert that loves to help our customers. Before we got into this business we used buy and sell bitcoin on Bitcoin ATMs and whenever we encountered unprofessional behavior from an ATM operator, we just moved on to the next one. As previous consumers ourselves, we understand that if you don't create a happy customer-base, our customers will do what we did, go somewhere else.
For our customers' convenience, we offer several customer service avenues. We can be reached by phone, text message, and email. We are available 24-hours and we are continuously improving our customer service.
6. The best two-way Bitcoin ATMs
All of our Bitcoin ATMs are state-of-the-art two-way Satoshi Genesis Bitcoin ATMs. They are the best in the industry and allow you to buy and sell with cash.
7. Cash is king.
Nothing is more private than cash. Buying and selling cryptocurrency online lets the exchanges and your bank know that you own cryptocurrency. Buying and selling cryptocurrency from our Bitcoin ATMs with your own cash is private.
I hope this article answered all of your questions about investing in cryptocurrency and using our Bitcoin ATMs. If you have more questions, check out our frequently asked questions page, blog page and contact us directly by phone, text message and email.
References: 
This article describes the Bakkt venture partnership with Microsoft and Starbucks to make cryptocurrency a mainstream investment.
This article talks about the 2018 fiat peso volatility in Argentina that prompted an increase in cryptocurrency ATMs.
This article talks about how the NYSE's owner made cryptocurrency 401(k) investments possible.
This article describes the future of cryptocurrency in the credit card market.
This article weighs in on the future of bitcoin vs gold.
Share this article with your friends and family: